Simone George is a human rights lawyer and activist, a consultant commercial litigator and a TED2018 Speaker.
Simone George gave a joint TED talk with her partner Mark Pollock earlier this year, recorded at the TED Conference in Vancouver.
Mark and Simone speak about how to resolve the tension between acceptance and hope, something they had to try and figure out in the aftermath of Mark's catastrophic spinal cord injury. They talk about why climbing right into that raging river over rapids that sweeps us along when tragedy strikes can be the way to get to the next place; and how they are now catalysing new collaborations to cure paralysis in our lifetime.
Social psychologist, Amy Cuddy, whose TED talk about power posing earned her worldwide recognition and has over 47 million views, described Simone and Mark's talk as "the most powerful, moving talk I have ever seen at TED", while TED curator Helen Walters described their talk as a "love letter to science".
Find out more about Simone's human rights and activism here.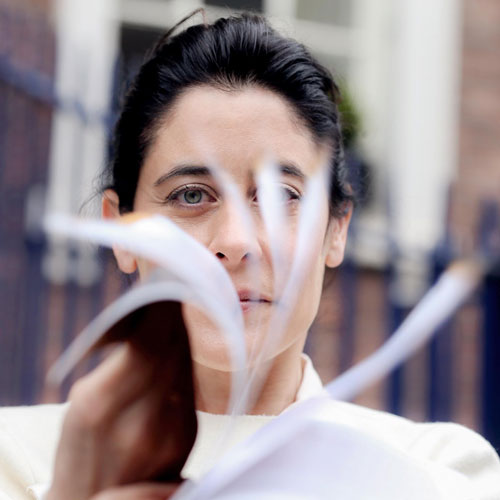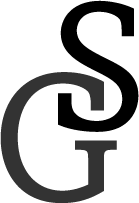 Simone George is a human rights lawyer and activist, a consultant commercial litigator, a paralysis cure hunter and a TED2018 Speaker.
Everything Simone does is based on her belief in fairness. As a human rights lawyer, she represents women who are experiencing abuse and is presently researching why those in our systems don't adequately serve justice. She co-authored the report "The Lawlessness of the Home" with an Irish NGO, finding that we are all responsible for women and children's right to bodily integrity and to liberty. She also co-created a summit in 2016 to cultivate the leadership required to arm us for this responsibility, gathering the world's foremost thinkers and activists together in Dublin. This work led to significant amendments to legislation and will contribute to a new landscape of social and political justice in Ireland.
In 2010, Simone's fiancé – blind adventure athlete Mark Pollock – broke his back, and together the two learned how paralysis strikes at the very heart of what it means to be human. George's research, which began by Pollock's hospital bed, became the start of their next adventure – to find and connect people around the world to fast-track a cure for paralysis. George has been a catalyst for a global collaboration between groundbreaking scientists creating a paralysis cure and is the subject of feature documentary: Unbreakable. She is a director on the board of the Christopher and Dana Reeve Foundation, a masters graduate from The College of Europe, Bruges, holds a diploma from Harvard and is a double-graduate of NUI Galway.
Watch Simone's TED talk, given with Mark at TED 2018 in Vancouver, here:  https://go.ted.com/markandsimone
TED Talk 2018.
https://go.ted.com/markandsimone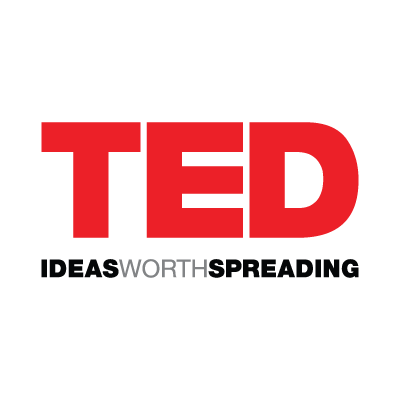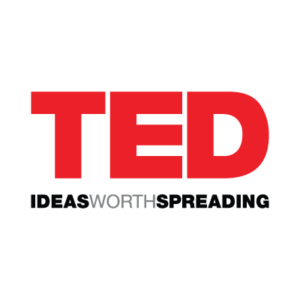 ---
Co-curated the #Stand4Truth gathering in Dublin, Sunday 26 August 2018,
When the Pope came to Ireland in August 2018, Simone, together with a flying column of activists created Stand For Truth, an alternative space for people to stand in solidarity with those abused by the church. Based on a credo of truth, justice and love, thousands of people defied the traffic restrictions and gathered at the Garden of Remembrance in Dublin. Held by the activists and artists including Hozier, Villagers, Grace Dyas and Colm O'Gorman, in a country where there are no families that haven't been touched in some way by the actions of the institutional Catholic Church, the response of those at the event and through the media, has been of healing and care, of change and revolution. #Stand4Truth.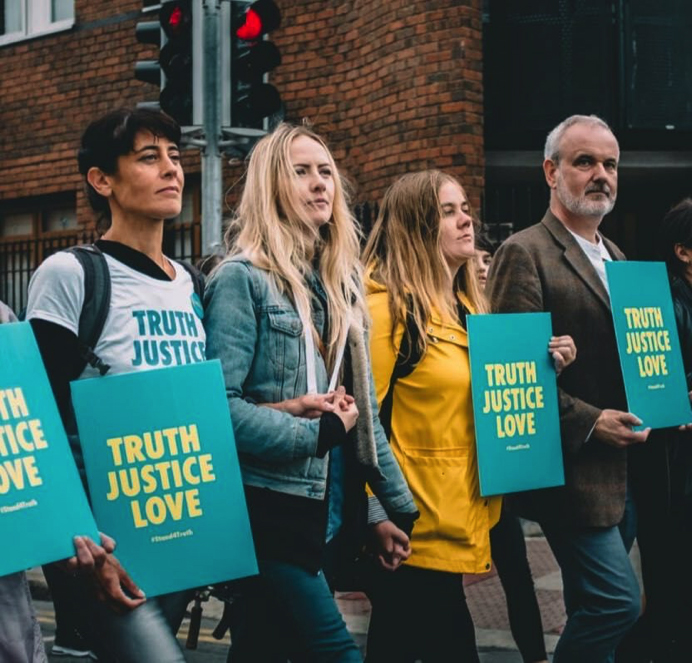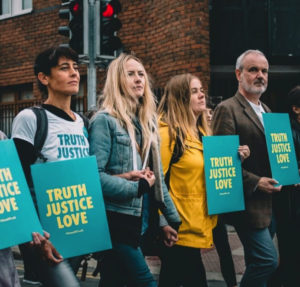 Left to right, Simone George, Susie Q, Grace Dyas and Colm O'Gorman at Stand For Truth, 26 August 2018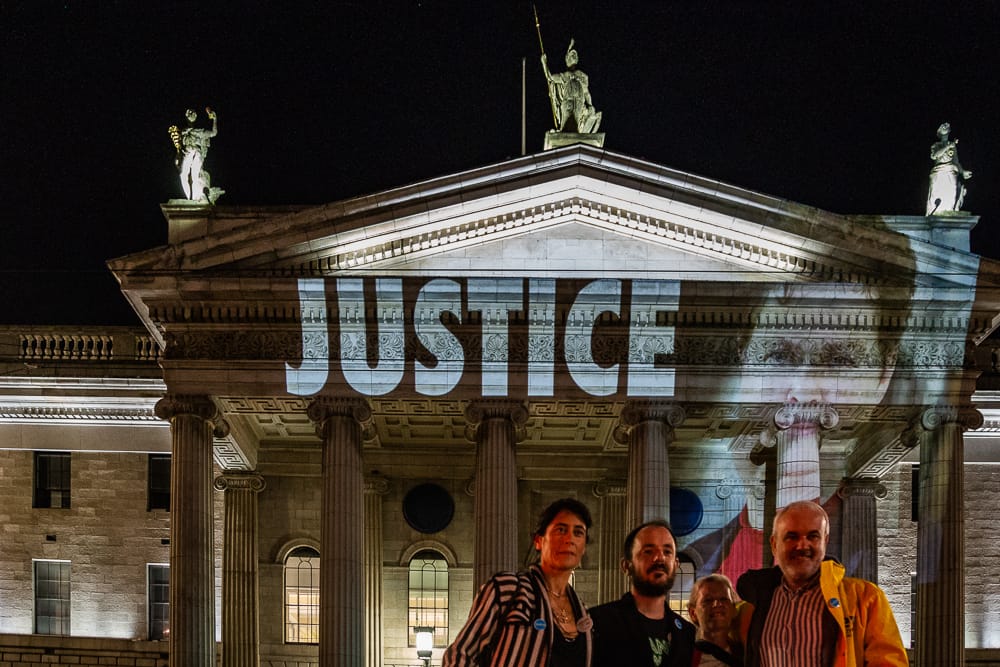 Left to right, Justice #Stand4Truth Illumination of on GPO with Simone: Darragh Doyle, Bernadette Morris and Colm O'Gorman.
---
Simone speaking at the Law Society about the need for courage in practice in domestic violence law.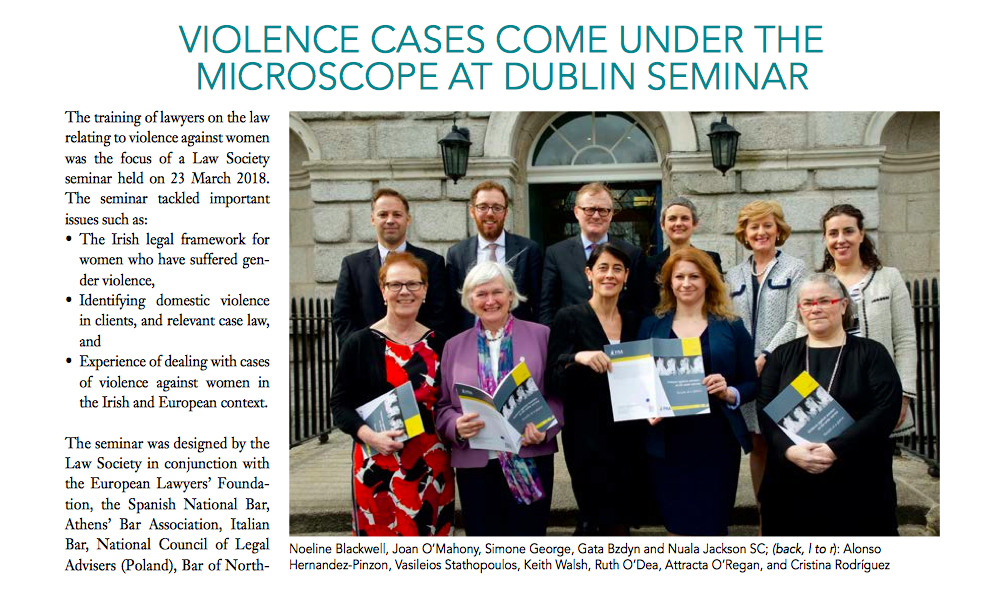 ---
Simone co-curating the SAFE Ireland Summit in October 2016.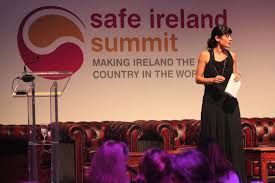 Men Behaving Better: Episode 1.

Simone spoke on the inaugural episode of Men Behaving Better, the new podcast series of Irishman Abroad Podcasts. In front of a packed Soho Theatre in London, Jarlath Regan was joined by comedian's Pierre Novelli and Fern Brady, and the celebrated human rights lawyer Simone George for the first pathfinding episode of the series. This conversation is a truly gripping and entertaining way to open the doors to the new series and new kind of conversation about changing men for the better.
Listen to the podcast: https://anirishmanabroad.podbean.com/e/men-behaving-better-episode-1/
---
Banter, The culture of sexual harassment. From #MeToo to What Now?
In the wake of Weinstein, Nassar, #MeToo and much more, society is scrutinising sexual harassment in the workplace like never before. Whereas slow erosions on inequalities are often the norm, this movement gained much momentum suddenly and demanded a sea-change.
What we wants to know is: how did we find ourselves here? How can this fervour be sustained? And what can be done to crystalise this zero tolerance into something that works for workers, but also attains the buy-in of business?
Joining us to discuss these issues and more were Noeline Blackwell (Chief Executive of the Dublin Rape Crisis Centre), Ellen Coyne (senior Ireland journalist with The Times Ireland Edition), Simone George (consultant litigator and activist) and Caroline McCamley (business consultant and executive director of Ampersand).
---
Irish Times Women's Podcast Episode 18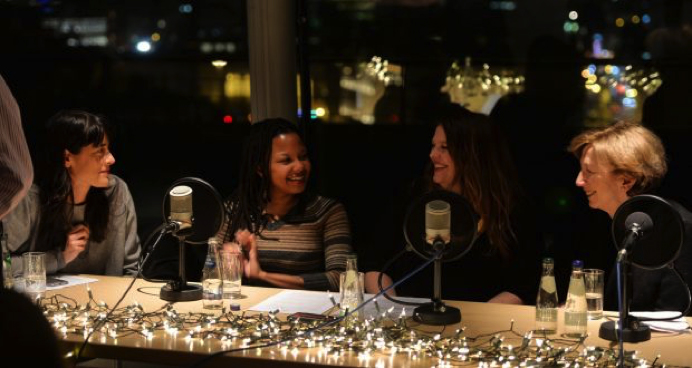 From left to right, Simone George; Clara Rose Thornton, Roisin Ingle and Olivia O'Leary at Irish Times Women's Epiphanies Podcast
This week's presenter Róisín Ingle asked: "What are the moments that changed you or at least changed your approach to life?"
On the Nollaig na mBan episode, women including broadcaster Olivia O'Leary, spoken word artist Clara Rose Thornton and lawyer Simone George shared their epiphanies.
George spoke of the box of shoes she spotted in a women's refuge which made her question her own prejudices.
To listen go to: https://www.irishtimes.com/life-and-style/people/what-are-your-a-ha-moments-it-s-question-time-on-the-women-s-podcast-1.2492629
---
Irish Times Women's Podcast Episode 63
"It's been a rough few days. Maybe we should have seen it coming but we didn't. Cue the sirens: In this 'Emergency Episode' we discuss the emotional impact of both Trump's victory and Clinton's loss on women and minorities. With sharp analysis of the voting demographics of the election our panel is Irish Times political journalist Sarah Bardon, civil rights lawyer Professor Linda Hamilton Krieger, spoken word artist Clara-Rose Thornton and domestic violence activist Simone George. In a sometimes heated discussion they give host Kathy Sheridan their take on President-elect Trump. "He is a man who has boasted about sexually assaulting women and has alienated every minority you can think of".
Listen to the podcast: https://soundcloud.com/irishtimes-women/ep63-emergency-president-elect-donald-trump-podcast-equal-pay
---
Pantisocracy – Season 1, Episode 3 'Turning Points'
In this episode, her guests talking of turning points in life are Mark Pollock, the blind now paralysed adventurer who is exploring ways to walk again. Lawyer Simone George, Mark's partner, is in the mix talking about her journey to make Ireland safer for women and scientist Dr. Niamh Shaw talks of her dream of going into space.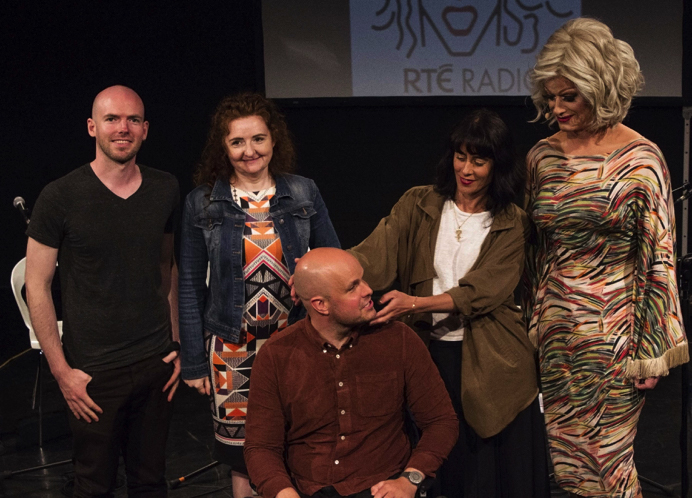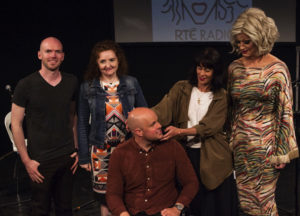 From right to left, Dr. Panti Bliss, Simone George, Mark Pollock, Niamh Shaw and Michael Gallen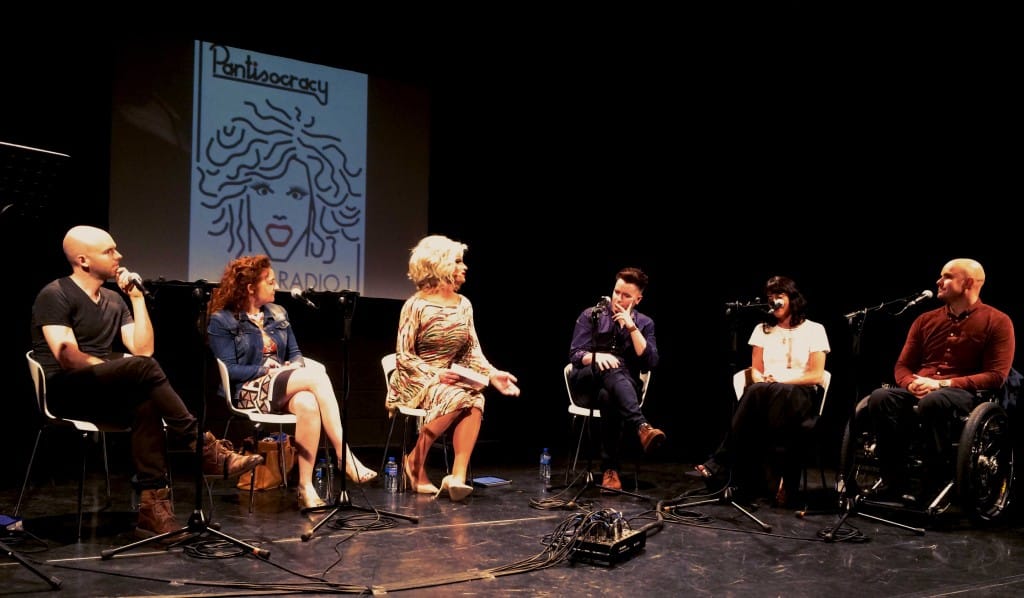 From right to left, Mark Pollock, Simone George, Jarlath Regan, Dr. Panti Bliss, Dr. Niamh Shaw and Michael Gallen
Listen to the podcast: http://pantisocracy.ie/episode-3/
---
SAFE Ireland Summit 2016
Working with a great team in SAFE Ireland and joined by US domestic violence activists, delivered by and for Irish NGO, SAFE Ireland, Simone, co-created and co-curated the SAFE Ireland Summit in 2016. A two-day single track, 40 speaker conference, Simone and the team carefully chose speakers and artists from around the world that understood the Summit's ambition – to activate people, to move people, to ultimately make Ireland the safest country in the world for women and children.
Despite being an inaugural event, the Summit had an extraordinary draw and reach. It welcomed speakers such as Vagina Monologues creator, Eve Ensler, musician, Hozier, Queen of Ireland Dr. Panti Bliss, and former White House Advisor, Lynn Rosenthal. The Summit featured on the national news, across broadsheet newspapers and social media, trending both days.
Shortly afterwards, the Minister for Justice, tabled the Domestic Violence Bill and Simone worked with the SAFE Ireland team suggesting significant amendments to that Bill which would make it the most progressive emancipating legislation for 100 years for women in Ireland. The Domestic Violence Act 2018 is now possibly the most fit-for-purpose domestic violence legislation in the world, the second only to the UK that has a crime of coercive control.
Testimonials:
'The Safe Ireland Summit was the most inspiring and empowering event Iʻve been part of in many decades. There is nothing we canʻt accomplish if we can harness and sustain the power, the brilliance, the passion, the commitment that was present in that space over those two days."
Linda Hamilton Krieger, Professor of Law, University of Hawai'i School of Law
"I have performed at hundreds of events around the world and have never experienced anything like the Safe Ireland Summit".
Carlos Andrés Gómez, Poet, Author of 'Man Up'
"Their mission in creating the Summit was to make Ireland the safest place in the world for women and children and they gathered speakers, thinkers, advocates, activists, and artists together to brainstorm about how we could achieve just that, to call for change, and to disrupt the status quo that is allowing women and children to be systemically victimised.
It was organised by Simone George, Sharon O'Halloran, and the rest of the Safe Ireland team, resulting in one of the most exhilarating events I have ever participated in.
It wasn't self-pitying or plaintive, although there were heart-rending stories of abuse told; it was a showcase for strength, determination, a ferocious energy crackling through the Mansion House like a live wire.
I left feeling invigorated and fiercely angry, determined to do more […] it was one of the most exhilarating events I have ever participated in. I left feeling invigorated and fiercely angry, determined to do more …"
Louise O'Neill, Author of "Asking For It"
Victims of domestic violence face 'bias'
Solicitor Simone George, who carried out research for Safe Ireland, said women were often unwittingly blamed for their situation by authority figures from whom they sought help.
https://www.irishexaminer.com/ireland/victims-of-domestic-violence-face-bias-321243.html
---
Seven inspirational role models for the young women of Ireland
https://www.image.ie/life/female-role-models-115923
These are the individuals who are deserving of the title "role model". Women who overcame struggles, who have risen above adversity, who have shown ongoing compassion to those less fortunate around them and who have fought for justice.
---
Everything you want to know about consent but were afraid to ask
https://www.irishtimes.com/life-and-style/health-family/everything-you-want-to-know-about-consent-but-were-afraid-to-ask-1.3450246
A troubling lesson from the Belfast rape trial is that our understanding of what consent is, is unclear… "In other words, it's not that the system isn't broken – it was built this way. It was built in a way that cannot be truly helpful to victims of sexual violence. And so it must change."
---
The power of two: how science and technology can be compatible in more ways than one
https://www.thenational.ae/opinion/comment/the-power-of-two-how-science-and-technology-can-be-compatible-in-more-ways-than-one-1.722569
Partners in life and work, Mark Pollock and Simone George became creators and collaborators on a project to get him walking again after a horrific accident.
---
Adventurer Mark Pollock, who was paralysed following an accident in 2010, has stood up on his own for the first time.
His fiancée Simone George spent the first months after his accident by his beside administering care: "Mark wasn't doing anything other than holding on to the mattress and hoping not to die".
She also spent hours online educating herself on every aspect of his condition, reading about various treatments and studies.
She eventually came across the work of Professor Reggie Egderton from UCLA. He has been using spinal stimulation to try to get his patients standing and walking again.
Mark and Simone asked Edgerton to travel to Ireland to set up a similar study with Mark as a volunteer and he agreed.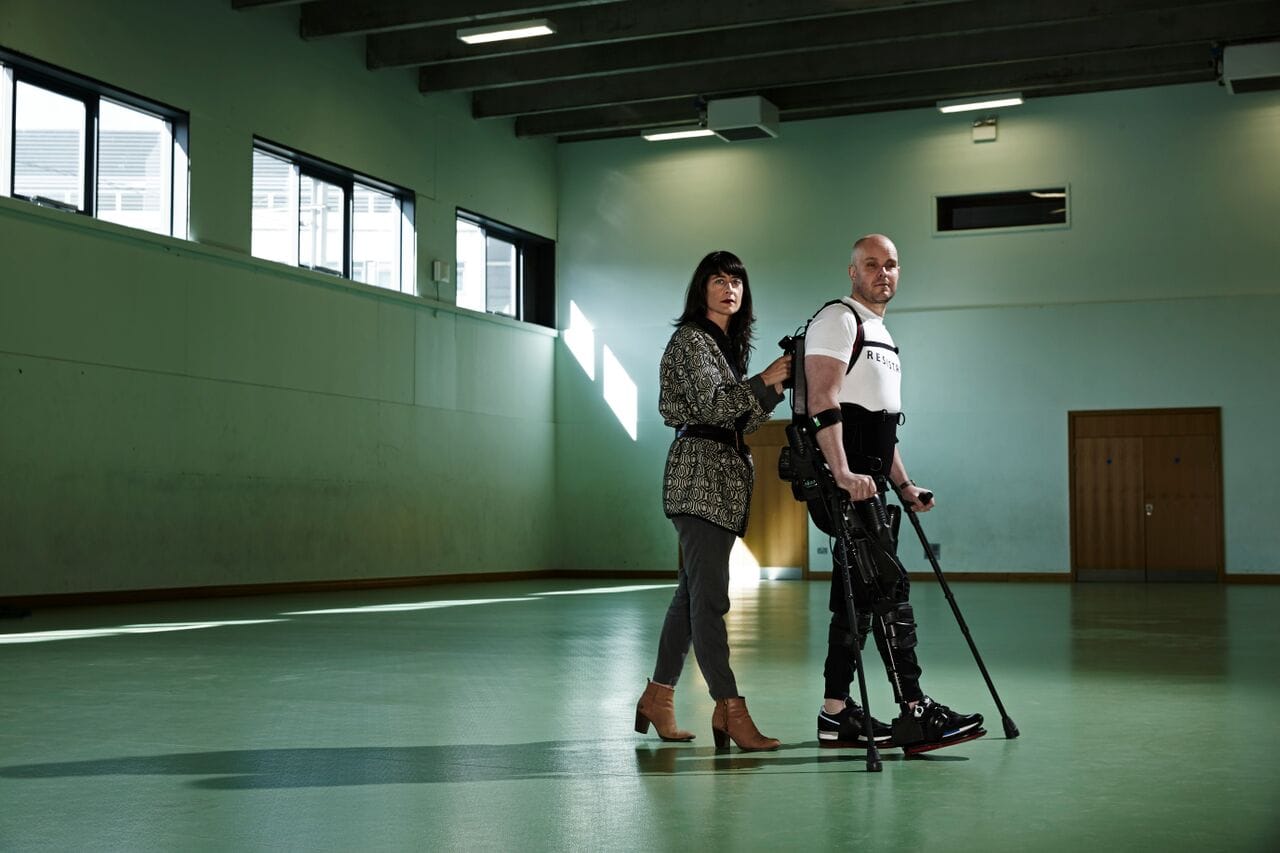 https://www.newstalk.com/EXCLUSIVE-Mark-Pollock-stands-for-the-first-time-since-paralysis
---
Unbreakable.
Simone featured in this award-winning observational documentary.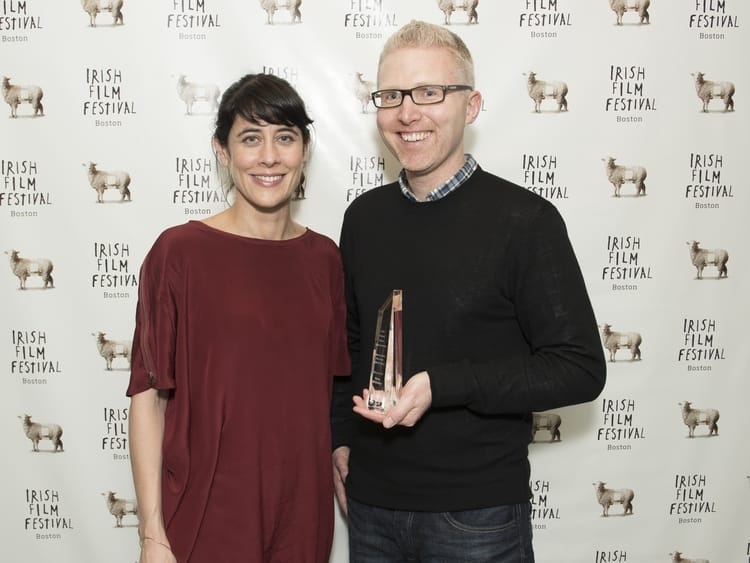 ---
Publications
Co-author and co-researcher with SAFE Ireland of The Lawlessness of the Home: https://www.safeireland.ie/wp-content/uploads/SAFE-IRELAND-The-Lawlessness-of-the-Home.pdf
---